Exploring and creating 'the more beautiful world our hearts know is possible'
Charles Eisenstein
Sacred Ecology Retreat
Date: To be confirmed
Location: Rockwood Farm, Cederberg,
Western Cape, South Africa
Price: To be confirmed (including food and accommodation)
An invitation
to reconnect with self, other and our ecological world. Sacred Ecology explores life at the intersection of science, consciousness, ecology and community – brought alive through experience, explanation, conversation, contemplation and, most importantly, immersion in the  diverse and dramatic landscape of the southern Cederberg.
We will uncover the deep patterns in nature, and what this reveals about the interconnectedness of all things, in particular how we ourselves fit within the larger harmonics of nature and the cosmos.
Join us for a journey of re-enchantment, a melding of art, science, wonder and presence, intended to generate hope and enable inspired action from a profoundly deeper and wider perspective.
The program
The program will attune our senses to a vaster universe and our participation in it, learning again to see, feel, hear and intuit life, from wild creatures in rock pools to ancient art on rock faces. We will explore ecological life principles evolved over millenia, and reflect on a deeper application of biomimicry in the conscious design of a world that nourishes all life at multiple levels.
We will contemplate our own 'story' inside earth's great story, in particular the evolution of consciousness and our own evolution from ego to eco-consciousness. We will listen for what the future is calling for, and share, what moves us, inspires us or troubles us, as we reawaken our wilder selves.
As we traverse the territory where science meets sacred, we will look for how cycles of life, holistic systems, sacred geometry, interrelatedness, creative evolution and syntropy, might guide the way we live, love, and work in the world.
Sacred:
Entitled to reverence and respect, deeply valued
Ecology:
concerned with the interrelationship, totality or pattern of relations between organisms and their environment, an often delicate, intricate or complex system.
An ecological consciousness
'Humanity stands at a transition point. We have developed technology that has allowed us to manipulate our external landscape, the material world, to an incredibly high degree. But we have yet to fully accept the challenge of understanding our internal landscape, the spiritual world and the power of the mind, with any degree of sophistication and maturity. It's pretty clear in mythological terms what happens with this approach. It is called a "wasteland" scenario. Humanity becomes alienated from nature and from itself. Our instincts become duller and we can no longer recognise our beating heart as the beating Heart of Humanity and the beating heart of Mother Earth. Nature does not speak to us and we do not speak to it. At this point of development, the existence of the human soul might even be questioned as a fairy tale. This is a state of materialism that has gotten profoundly out of balance. It is the mark of materialism to believe that the immaterial or insubstantial either does not exist and/or is inherently useless.'
Sunday evening:
Arrival. Attuning to place and each other.
Earth, water, fire, air (walk, rocks, pools, breathing, silence)
Monday: As above, so below
Sensory walk
Consciousness – from ego to eco
Exploring the deep patterns in nature, sacred geometry, harmonics, the elements and alchemical processes
Observation – form as evidence of flow
Tuesday: As within, so without
Sound scape
Intuitive Imagery – inner outer worlds
Our connection to the greater systems of life
Conscious awareness of the health of the planet and the health of our bodies – the science and art of reconnection and regeneration
Coherence and attunement – breath, dance, walking, sound

Wednesday: Sacred ecology
Land art
Appreciative inquiry – what gives life?
Deep ecology, self-organisation and feedback loops, cycles of life, systems, syntropy and life's principles – coherent and decoherent. The inter-connectedness of elements and ether.
Stories of possibility
Constellating the elements water, soil, air, fire, plants
Plant medicine
Thursday: Integration, Imagination and Intention.
Solo time – presencing
Integrating with syntrophic forces. From reactive to creative and expanded perspectives.
Possibilities for ourselves and our homes, our food, our enterprise and our world.
Dreaming into being 'the world our hearts know is possible'
Friday Morning:
Gratitude – appreciations for people and place.
Endings and Beginnings

Night and day walks, swims and silent and experiential exercises in Rockwood wild spots – cliffs, rock pools, river, rock art sites
New theory – multi-media presentations and practices
Group conversation, shared learning – fireside at night, under the trees during the day
Personal time – introspection, journaling, visioning
A roster for cleaning up the meeting room, making meals, clearing/cleaning dishes!
Depending on us: poetry, land art, music, dance, storytelling…
A sense of wonder and possibility inspired by where science meets spirituality
A greater sense of your wilder self and what it 'knows'
Appreciation for the 'dance of life' and your participation in it
A deepened ecosophy – informing how you might live, work and act in the world
The place
Rockwood Farm is situated on the edge of the Southern Cederberg across the Citrusdal valley – about 2 hours from Cape Town. The three very comfortable houses overlook their own rock pools and are short (and longer) walks from beautiful waterfalls, breathtaking 'cliff' paths, caves and ancient rock art.
The eco-system
The dramatic rock formations, river and cliff faces are  home to Booted and Black eagles, dassies, baboon, grysbok, klipspringer, rhebok and the elusive Cape Leopard. Protea, reeds, ericas, rooibos and buchu thrive alongside wild olive, waboom and rockwood trees and thousands of other species endemic to the Fynbos and Succulent Karoo Biome. The highest peak of the Cederberg, the Sneeuberg, towers in the distance while smaller creatures including sunbirds and sugarbirds inhabit the gardens just beyond the patios.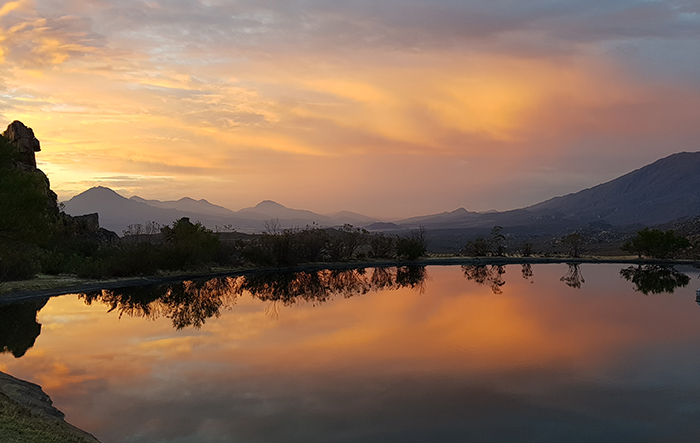 Price and practicalities
Price: To be confirmed – mostly shared accommodation, single can be arranged (discount for couples who share a room with a double bed)
Includes 5 nights accommodation, all vegetarian meals, participant material.
Excludes VAT, drinks, and transport to the Cederberg venue
Location: Citrusdal, Southern Cederberg, Western Cape, South Africa
Venue: Rockwood Farm
There's a song that wants to sing itself through us. We just have to be available. Maybe the song that is to be sung through us is the most beautiful requiem for an irreplaceable planet or maybe it's a song of joyous rebirth as we create a new culture that doesn't destroy its world.